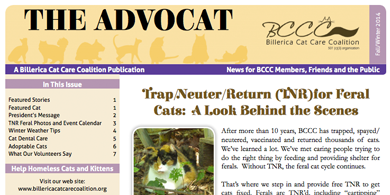 Fall / Winter Newsletter
Our latest release of The Advocat highlights success stories, providing for your pet's future and much more! Click here to read The Advocat.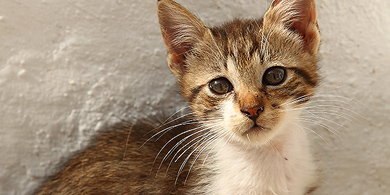 Meet Our Cat's And Kittens
If you are interested in providing a forever home for a cat or kitten please visit our adoption listings page.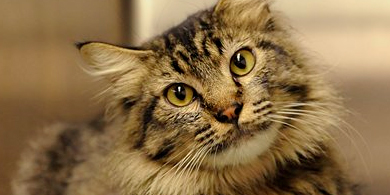 Volunteers Wanted
We are in need of several professionals to help us help the cats and kittens of Billerica. Requirements include experience, references and a love of cats. We have a range of positions open for volunteers. Contact us for more details or visit our volunteer page for a current list of open positions.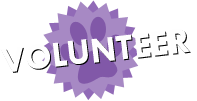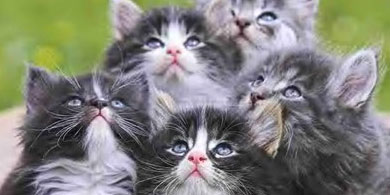 Donate Today
BCCC is a TRUE no-kill cat rescue and adoption organization who assists feral (wild) and abandoned cats and their kittens. We promote low-cost spay/neuter of companion animals and educate the public on local animal issues.The BCCC is a 501(c)(3) organization, meaning your donation is tax-deductible!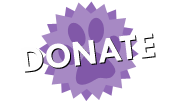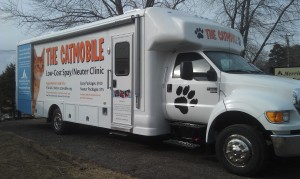 Low Cost Spay And Neuter Program
The Billeric Cat Care Coalition provides several low cost spay and neuter programs. Learn how you can help and educate yourself on the importance of spaying and neutering your pet. Click here to learn more.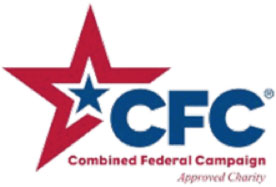 Exciting news for Federal Employees
Please consider Billerica Cat Care Coalition CFC Code #80923 as your CFC charity of choice for the 2014 workplace giving campaign.
Billerica Cat Care Coalition is proud to announce that the Combined Federal Campaign (CFC), a workplace giving option available to Federal Employees (military, civilian, and postal) has approved Billerica Cat Care Coalition's participation in the 2014 Campaign as a member of the Animal Welfare Fund CFC Code #80923. The campaign takes place this fall beginning in September.